Alvarez Artist AG60AR Natural Gloss
RM3,200.00
KEY FEATURES
Series: Alvarez Artist
Top Wood: Solid A+ Sitka Spruce
Back & Sides Wood: Mahogany
Shape: Grand Auditorium w/ Armrest
Neck: Mahogany, 50/50 Semi gloss finish
Bracing System: FST2
Bridge: Bi-Level Rosewood / Pau Ferro
Fingerboard: Rosewood / Pau Ferro
Nut & Saddle: Real Bone
Tuner: Premium Die Cast
Binding: Walnut
Strings: D'Addario EXP
Description
ALVAREZ ARTIST AG60AR
ALVAREZ ARTIST 60 SERIES GRAND AUDITORIUM WITH BEVEL-EDGED ARMREST, NATURAL GLOSS FINISH
Master Luthiers around the world have been crafting bevel edged armrest guitars for some time. The feature not only makes Alvarez guitar more comfortable to play, but also allows the maker to demonstrate their skill and craftsmanship in producing beautiful instruments.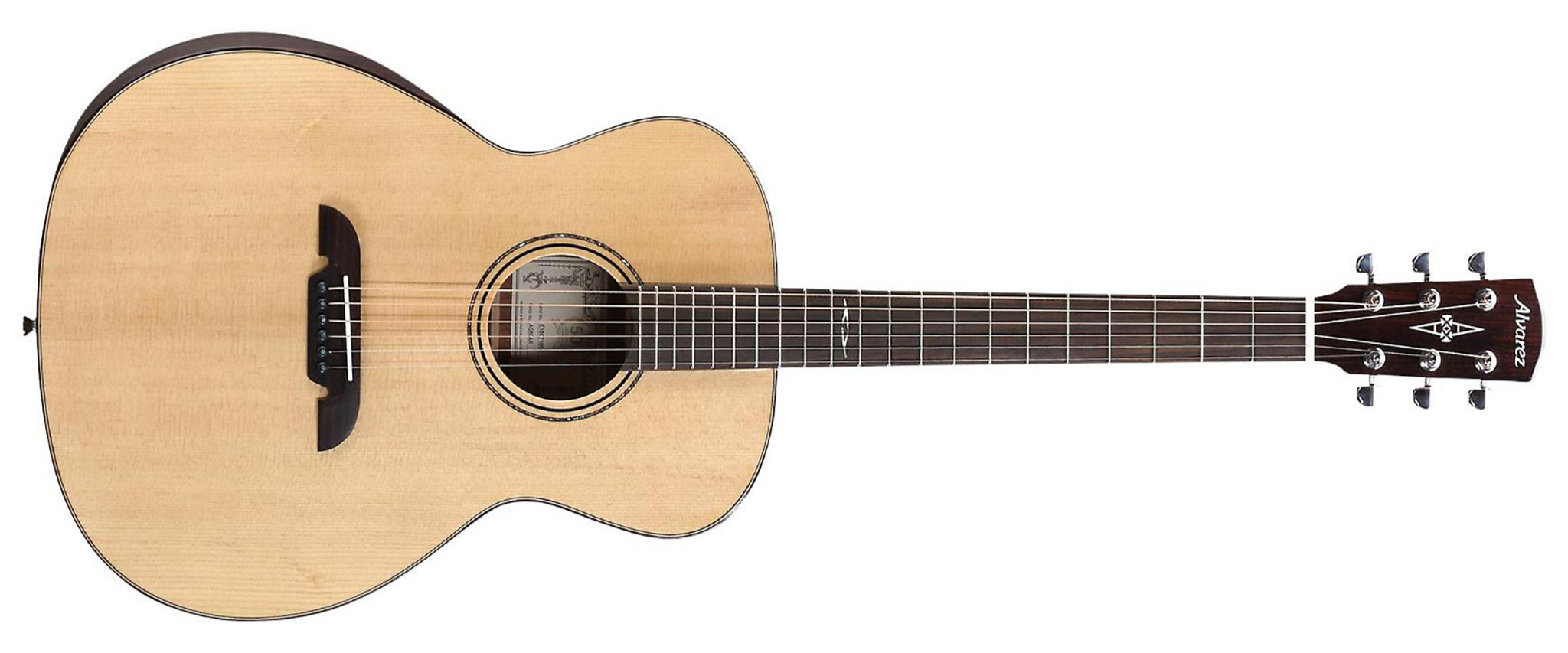 KEY FEATURES
Series: Alvarez Artist
Top Wood: Solid A+ Sitka Spruce
Back & Sides Wood: Mahogany
Shape: Grand Auditorium w/ Armrest
Neck: Mahogany, 50/50 Semi gloss finish
Bracing System: FST2
Bridge: Bi-Level Rosewood / Pau Ferro
Fingerboard: Rosewood / Pau Ferro
Nut & Saddle: Real Bone
Tuner: Premium Die Cast
Binding: Walnut
Strings: D'Addario EXP
The term "solid top" of course refers to the soundboard of an acoustic guitar being made of solid wood, rather than being laminated. However, just because the top is solid, it does not necessarily mean the sound automatically benefits from this feature. The tone of the instrument only improves significantly when the whole guitar is built correctly to optimize the energy a solid soundboard can generate. Artist Series is built to do exactly this.
Designed with FST2 bracing system, a forward shifted X brace design, this means the axis of the X is closer to the sound hole and therefore creates a larger soundboard area allowing for more energy and vibration to be harnessed.
The Artist Series sound and personality is open and powerful. FST2 also creates very good balance so both the treble and bass registers are clearly present and balanced in relation to each other. Along with a more angled headstock, Alvarez bi-level bridge increases string tension by making the break angel of the strings from the saddle to the top more acute. Improved string tension adds to the sound, feel and response, which are also heightened by the use of real bone nuts and saddles.
Artist Series also demonstrates great finishing capabilities; the gloss models have a clear deep shine from a finish that is applied as thinly as possible, again to help optimize tone.
Additional information
| | |
| --- | --- |
| Weight | 3 kg |
| Dimensions | 100 × 40 × 15 cm |
| Product Categories | |
| Instruments | |
| Products | |
| Brands | |
| Awesomeness | |