Alvarez Masterworks MDA66CESHB Shadowburst Gloss
RM4,800.00
KEY FEATURES
Series: Alvarez Masterworks
Top Wood: Solid African Mahogany
Back & Sides Wood: Solid African Mahogany
Shape: Dreadnought w/ Cutaway
Neck: Mahogany, 50/50 Semi gloss finish
Bracing System: FST2
Bridge: Bi-Level Indian Laurel/Rosewood
Inlays: Paua Abalone & Mother of Pearl
Purfling: 1.5mm Paua Abalone
Fingerboard: Indian Laurel, 12th Fret Inlay
Headstock Plate: Rosewood
Nut & Saddle: Real Bone
Tuner: Premium Die Cast Gold w/Ebony Buttons
Binding: Acacia
Bridge Pins: Ebony
Strings: D'Addario EXP16
Accessory: AFC30 Flexicase
Pickup / EQ: LR Baggs StagePro EQ and Element Pick Up
Description
ALVAREZ MASTERWORKS MDA66CESHB
ALVAREZ SOLID MAHOGANY DREADNOUGHT ELECTRIC ACOUSTIC, SHADOWBURST GLOSS FINISH
This stunning dreadnought offers simply incredible craftsmanship, tone and beauty. Alvarez flawless Shadowburst finish looks fantastic over the solid mahogany top and the hand crafted Paua abalone purfling frames the body beautifully. This acoustic electric model is fitted with the fantastic LR Baggs Element pick up and StagePro EQ for optimal live performance. Nothing can really match a guitar made from all-solid wood. The deflection of the notes is quicker, the quality of the sound is better, you can obtain optimal response and the sound of your guitar will improve as it ages.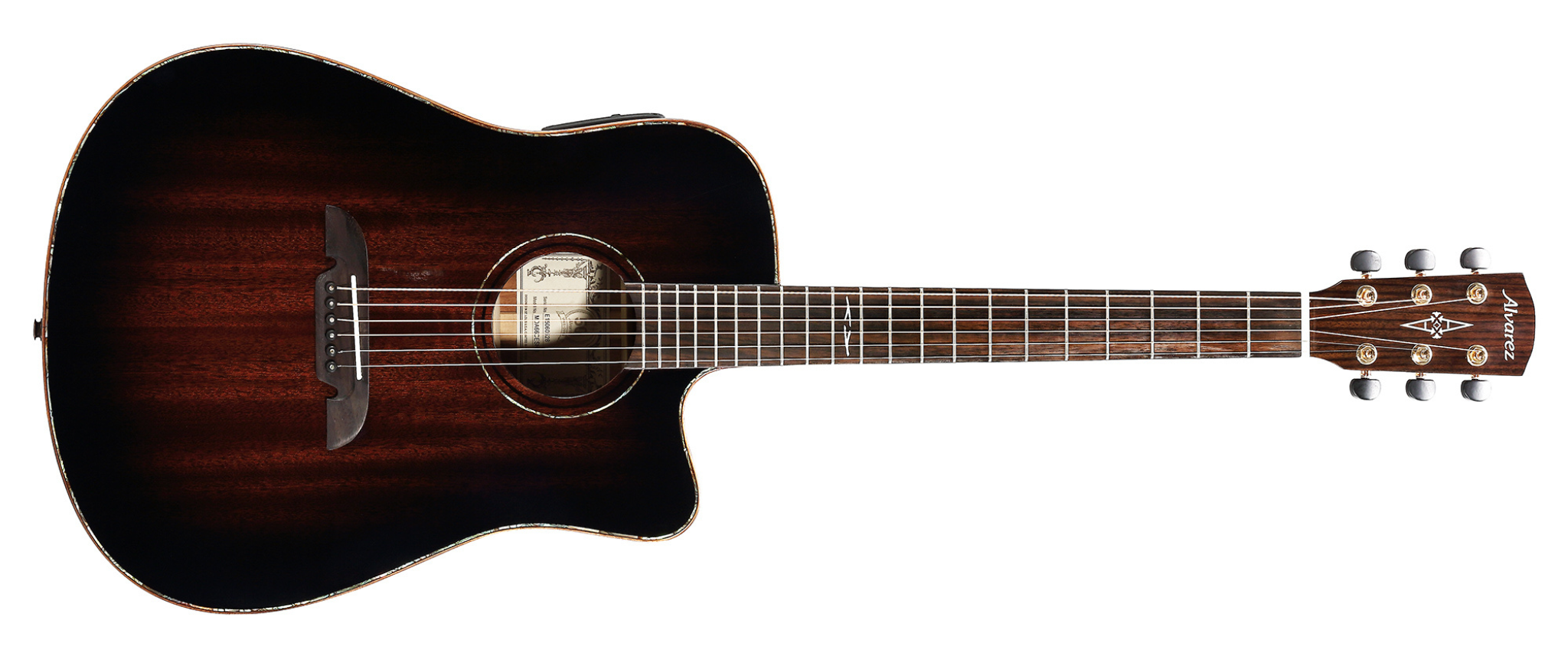 KEY FEATURES
Series: Alvarez Masterworks
Top Wood: Solid African Mahogany
Back & Sides Wood: Solid African Mahogany
Shape: Dreadnought w/ Cutaway
Neck: Mahogany, 50/50 Semi gloss finish
Bracing System: FST2
Bridge: Bi-Level Indian Laurel/Rosewood
Inlays: Paua Abalone & Mother of Pearl
Purfling: 1.5mm Paua Abalone
Fingerboard: Indian Laurel, 12th Fret Inlay
Headstock Plate: Rosewood
Nut & Saddle: Real Bone
Tuner: Premium Die Cast Gold w/Ebony Buttons
Binding: Acacia
Bridge Pins: Ebony
Strings: D'Addario EXP16
Accessory: AFC30 Flexicase
Pickup / EQ: LR Baggs StagePro EQ and Element Pick Up
The term "all solid" of course refers to the guitar top, back and sides being made of solid wood rather than laminated. However, just because the guitar is made of all solid tonewood, it only performs to its full potential when it is designed to get the best out of its materials and components. These components include Alvarez FST2 bracing system, bi-level rosewood bridge, real bone nut and saddle, carefully seasoned tonewood and a thin finish.
Designed with FST2 bracing system, a forward shifted X brace design, this means the axis of the X is closer to the sound hole and therefore creates a larger soundboard area allowing for more energy and vibration to be harnessed.
The Masterworks personality is open and powerful. FST2 also creates very good balance so both the treble and bass registers are clearly present and balanced in relation to each other. Along with a more angled headstock, Alvarez bi-level bridge increases string tension by making the break angel of the strings from the saddle to the top more acute. Improved string tension adds to the sound, feel and response, which are also heightened by the use of real bone nuts and saddles.
Masterworks Series also demonstrates great finishing capabilities; the gloss models have a clear deep shine from a finish that is applied as thinly as possible, again to help optimize tone.
Additional information
| | |
| --- | --- |
| Weight | 3 kg |
| Dimensions | 100 × 40 × 15 cm |
| Product Categories | |
| Instruments | |
| Products | |
| Brands | |
| Awesomeness | |